Fish Available
Rainbow, Brown and Blue Trout from Ova to Fingerling
(10cm / 4 inches and over 10cm / 4 inches)
Rainbow Trout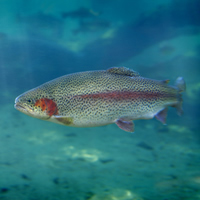 (Onchorhynchus mykiss formally known as Salmo gairdneri)
Introduced into this country from North America over a hundred years ago; they do not tend to breed naturally in most river systems and restocking is basically restricted to 'still or enclosed' waters.
Availability: All sizes of Female or Triploid, including Ova, are available throughout the year including large triploid specimen fish over 9kg (20lbs).
Blue Trout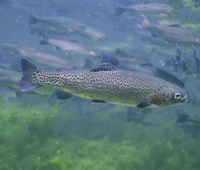 (Onchorhynchus mykiss)
Another beautiful variation similar to the Golden Trout (Golden Trout can be ordered through our site at Ae). The Blue Trout is a hard fighting fish and without question, the anglers choice. Northern Trout are one of the few breeders of this type of fish so pre-ordering in good time is essential.
Availability: Is limited but pre-ordering secures good stock.
Brown Trout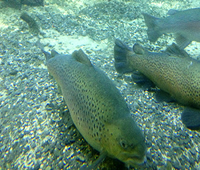 (Salmo trutta)
The native trout species found in most rivers, lakes and reservoirs throughout the British Isles.
Availability: Most sizes available year round; from eggs through to large specimen fish over 4.5kg (10 lbs).